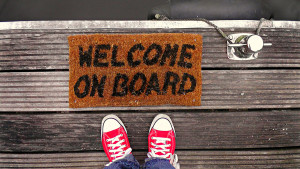 While every association we work with is unique in one way or another, they all share a common goal: to attract new members.  As a result, we often help our clients develop new member recruitment strategies and tactics. And we consistently recommend that they develop some form of a Visitor's Center for their website.  Since so many of us have been conditioned over the years to never buy a product or service until we've had the opportunity to try it out, we need to recognize that this same mentality holds true for association membership as well.  Prospective members want to get a tangible sense of what the experience of being a member is like before they will commit to the annual membership fee.  So the purpose of a Visitor's Center is to give prospective members a real sense of the member benefits that are served up within the members only area of an association's website.
Last fall, we helped migrate a trade association onto the Higher Logic platform with a new website and members-only area.  Since they were new to Higher Logic, they didn't have a lot of member-generated resources to showcase after launching their new sites. However, they did have a very specific goal – to attract small company members (they offer an organization-based membership).  To that end, they had developed several information-based tools (one of which is 250 pages in length) that would be specifically beneficial to smaller organizations that didn't have the time or resources to develop their own.  They decided they would give these tools away in return for identifying organizations that would be ripe for membership.  We helped them build a simple Visitor Center to facilitate this offer.
On their new Higher Logic-powered website, we added a prominent link on the main navigation that said Featured Tools.  We then built a Featured Tools page – on the left side of the page were pictures and descriptions of the three tools that the association had developed.  On the right side of the page was a simple form (powered by Wufoo – our preferred third-party online form provider) that asked those who were interested in downloading the tools to provide their name, title, email, company, whether they wanted to receive more information regarding membership and how they had heard about the association.   We then created a hidden folder that contained the identical description of the tools, but also included [Download] buttons next to each tool.  The folder was hidden so that it would not be accessible via a search on the site or a general internet site (i.e. hidden folders and their content don't get indexed within HL – an important thing to know).  Once an interested party fills out the form, they are redirected to the hidden page/folder where they can access the tools.  They get a "taste" of what the organization is all about in the form of the content it produces for its members, while the association gets a lead on a potential new member.
In less than three months, more than 200 individuals have downloaded the tools. And the association has picked up 3 new small organization members as a result (which since they only have 75 total members) is a respectable number to date.
Recently, we built another Visitor Center's for an association that was also looking to attract new members. They, however, had a variety of different types of content and member benefits that they wanted to showcase to prospective members.  This association is a professional society with approximately 750 members who has been using the Higher Logic platform to power their website and their members-only community for several years.  While not a large organization, their members are very active in sharing their expertise and developing resources that are valuable to all members.  As a result, their Visitor's Center looks a little different than our first example.
Again, we started the process by creating a hidden folder using the Higher Logic content management system and then added a new page to house our Visitor Center content.  We then went about researching and collecting content that would be of value to a prospective member and demonstrate the benefits of membership.
We first used Higher Logic's activity reports to identify the member-shared resources that had been download the most over the previous year.
We then visited the association's online store to understand what content they sell and reviewed transaction history to see what content sold the most. We discovered that the association produces an annual compensation survey that is very popular.  We asked the association if we could feature a two-year old compensation survey that they were no longer selling but would still be attractive to a prospective member.
Next, we collected four issues of the association's quarterly magazine but issues that were two years old. We then Identified one of the most popular webinar presentations from the previous year.
Finally, we collected images of the association's annual award winners from the previous year's conference and built a carousel with the images and quotes from the winners on the impact of the awards and their positive feelings toward the association.
After assembling all of this valuable content, we built an attractive page that grouped all this content into different association program areas, and also included a discussion control widget that pulled current discussions onto the page.
Then, like our first example, we built a publicly available page that outlined all the cool things available on the Visitor's Center and then included another one of our Wufoo-powered online forms.  Once the prospective member fills out the form, they are redirected to the hidden folder that holds the content-packed Visitor's Center.  They also receive an email confirmation of their interest in the association, a link to the Visitor's Center and some additional descriptions of member benefits and an invitation to join.
This new Visitor's Center just launched in recent weeks, so it is too early to judge the ultimate success of this approach, but the association is very excited about their ability to showcase the benefits of membership in such a low cost, high impact manner.
---