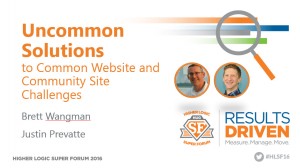 TCAG President Brett Wangman joined with Justin Prevatte to present "Get Unstuck! Uncommon Solutions to Common Website and Community Site Challenges" as a one hour breakout session at Higher Logic's 7th Annual Super Forum (November 2016).
Session Details:
We provided real-world examples of how to use Higher Logic web controls, built-in bootstrap features, and plug-n-play CSS to extend your website functionality, including:
– HL-driven news/content feeds
– Leveraging responsive images
– Swapping images and sliders for different devices
– Using blogs as a multipurpose content type
– Third-party form builders
– Using security groups to personalize home pages
– Syndicating content control across multiple sites
In case you weren't able to attend this session at the Super Forum, please click below to download the presentation.
Uncommon Solutions to Common Website and Community Site Challenges – Justin Prevatte and Brett Wangman