Our clients trust us. Implicitly. That's how we are able to make an impact, a difference. Trust fuels our passion and inspires our actions.
We are privileged to work with these associations, either providing full service management or engaging on strategic technology projects :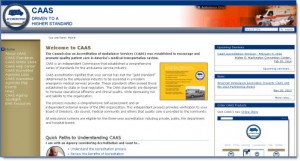 Commission on the Accreditation of Ambulance Services (CAAS)
CAAS was established to encourage and promote quality patient care in America's medical transportation system. The independent Commission established a comprehensive series of standards for the ambulance service industry.
TCAG has had the pleasure of providing full service management to CAAS for more than 15 years.  Under a unique partnership, TCAG has helped build CAAS into a leading accreditation provider for the emergency medical transport industry. In addition to managing every aspect of the accreditation process, TCAG has worked closely with CAAS's board of directors in creating strong brand recognition for CAAS as symbolizing "The Gold Standard" in the medical transportation industry.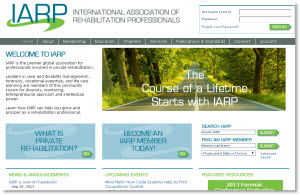 International Association of Rehabilitation Professionals (IARP)
IARP is the premier global association for professionals involved in private rehabilitation. Leaders in case and disability management, forensics, vocational expertise, and life care planning are members of this association known for diversity, mentoring, entrepreneurial approach and intellectual power.
TCAG became IARP's full service management provider in 2007.  Since then, TCAG has worked diligently to solidify the foundation of this dynamic group and are now executing against an exciting growth plan designed to recruit the next generation of rehabilitation professionals into the association. In addition to assisting in the roll out of a new global brand in the spring of 2013, TCAG was instrumental in building out the collaboration capabilities within IARP's members-only area, IARP Connect.  Today, a new member joining the association has instant access to thousands of knowledge assets, contributed by some of the industry's leading practitioners.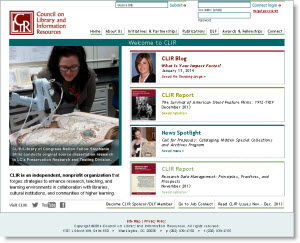 Council on Library and Information Resources (CLIR)
CLIR is an independent, nonprofit organization that forges strategies to enhance research, teaching, and learning environments in collaboration with libraries, cultural institutions, and communities of higher learning.
TCAG first engaged with the fine folks at CLIR in the summer of 2011.  CLIR was managing its membership using several different databases, none of which were integrated into their website.  CLIR was one of the first TCAG client to use the OPENAssociations platform, powering their main website on Plone, their membership data in Avectra NetFORUM Pro and their members-only community on Higher Logic's Connected Community platform.  See what CLIR has to say about their experience working with TCAG.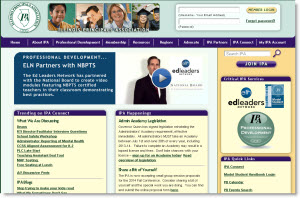 Illinois Principals Association (IPA)
The mission of the Illinois Principals Association is to advance learning through effective educational leadership.  To achieve its mission, the IPA works to provide Members high quality professional development, networking opportunities, and advocates on the behalf of school leaders with state and federal legislators and the Illinois State Board of Education.
TCAG began working with the talented professionals who run IPA in the spring of 2010, helping them to realize their vision of integrating their member management system (Avectra NetFORUM Pro) with a redesigned website (powered by Plone) and a members-only collaboration center (powered by Higher Logic's Connect Community).  More than just connecting multiple applications together, IPA has optimized their technology investment by building and stressing the importance of having high quality content flowing through their website and private members-only community.  Read what IPA said about working with TCAG.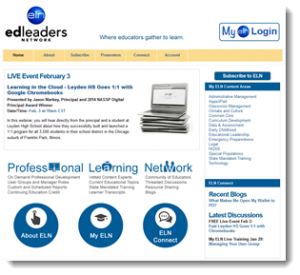 Ed Leaders Network (ELN)
The Ed Leaders Network (ELN) is grounded in the belief that educational leaders impact student performance. With this foundational belief at ELN's core, multiple state principal associations have partnered together to provide high quality, on-demand professional development to educators to enhance their leadership capabilities.
Based on the successful relationship forged in launching IPA's website, the IPA team engaged with TCAG in the late fall of 2010 to help them launch another ambitious service, the Ed Leaders Network.  Originally powered by Higher Logic's Connected Community platform integrated with Avectra's NetFORUM Pro, the launch of ELN was a terrific success.  With the steady stream of new subscribers and an ever growing library of valuable professional development webinars, the ELN has recently undergone another set of revisions, bolstering the platform with Plone and with several e-learning applications.  See what ELN had to say about working with TCAG..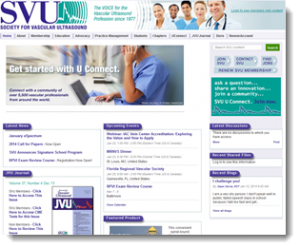 Society of Vascular Ultrasound (SVU)
SVU has been dedicated to the advancement of noninvasive vascular technology used in the diagnosis of vascular disease. The Society has a diverse membership of over 5,000 vascular technologists, surgeons, cardiologists, lab directors and many more.
TCAG engaged with the Society of Vascular Ultrasound (SVU) in the early part of 2013.  SVU wanted to redesign and relaunch their main association website and at the same time build out a more collaborative members-only area.   SVU was satisfied with the association management system that they were already using (i4a), so TCAG worked with SVU's senior staff to build out their new website and members-only community on Higher Logic's Connected Community platform.  These new sites were also integrated with i4a and a new design was layered on top of both applications for a seamless member experience.  Successfully launched in September 2013, the new SVU website and collaboration center was an instant hit with SVU members and SVU's UConnect became the focal point of rich, active discussions from day one.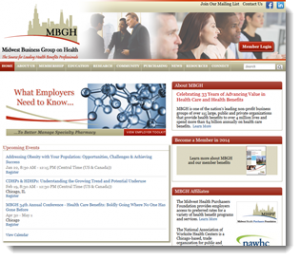 Midwest Business Group on Health (MBGH)
The Midwest Business Group on Health (MBGH) is a non-profit, Chicago-based 501(c)(3) business coalition comprised primarily of human resource and health benefit professionals along with other health care stakeholders from over 115 large public and private organizations. Members represent over 4 million lives and spend more than $4 billion on health care benefits on an annual basis.
TCAG has been working with the senior staff at MBGH for several years now, providing a variety of technology consulting services.  MBGH uses Avectra NetFORUM Pro as its association management system (AMS) and Higher Logic's Connected Community platform to power several of its websites and its members-only community, MBGH Connect.  TCAG helps MBGH maximize its investment in these two applications by helping them to configure both applications to deliver as much member value as possible.