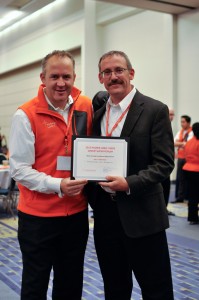 At the Higher Logic Super Forum (December 2013), TCAG President, Brett Wangman receives a Most Valuable Contributor (MVC) Award for his sharing of expertise on HUG, the Higher Logic User Group.
This is the fourth consecutive year that Brett has been recognized for his contributions and expertise sharing.  Andy Steggles, Higher Logic President & Chief Customer Officer, presents Brett with his award.
And shortly after receiving his award, Brett went back to his hotel room and shaved off the moustache.  Movember was officially over.